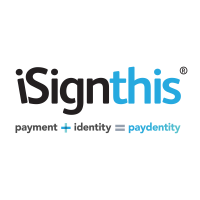 iSignthis Limited (ASX: ISX) is based in Melbourne, Australia with a European region office in Amsterdam and London, and representatives in the US and Asia.
Founded in 2013, their initial goal was to research a means of preventing Card Not Present (CNP) fraud in order to protect consumers and merchants from the growing problem of online fraud. Their research has led to patents being successfully granted in a number of jurisdictions.
iSignthis is now a global leader in online, dynamic verification of identity and financial transactions via regulated e-payment instrument authentication. The automated, online identification of persons remote to the transaction is made possible via a patented electronic verification method, and is available to more than 3 billion customer accounts across more than 200 countries.
iSignthis offer a broad commercial application on a global scale, with their identity verification being sourced from data based on regulated e-payment instruments including credit cards, debit cards, direct debit, e-mandate and wire transfers.
iSignthis provide the legal basis for compliance to meet customer identification requirements for AML obligated entities, as well as operational benefits for any online business looking to reducing customer on-boarding friction, mitigating CNP fraud, monitoring transactions and streamlining operations.
iSignthis positions itself as an industry leader, focused on innovation, research and development to create new products, revenue streams and solutions to existing problems within an online environment. They aim to be at the forefront of compliance technology, and an employer of choice both within Australia and globally.