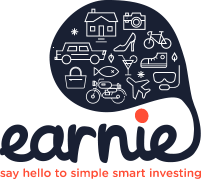 earnie's on a mission to make investing easy. To make your money work harder and get you where you want to be faster. To put you in control of your own hard-earned cash.
How? By sharing knowledge freely and simply. By ditching the jargon and empowering you to do it yourself through a simple online platform.
So, whether you want to get on the property ladder, start your own business, or simply travel the world, earnie can help you get there sooner.
Welcome to simple smart investing.